Rick Soloman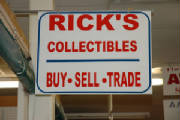 I helped The Sign Guy make this sign for Rick. I have a collection of US Mint Proof Sets that I have been building on since the 1960s. I bought them from Rick when he was located at Briggs Auction.
Uncle John said he "wants peeps to be able to find him fast and easy in any search engine...." I said: "I think I can establish a high enough profile for him, that like cream, He'll come to the top of all search engines.... I just need time for propagation...." So keep your eye on YaHoo, Google, WebCrawler, iXquick, Mamma, DogPile, MetaCrawler, and others.... We're propagating....
Uncle John, and Uncle Lenny wants me to establish Internet Web Presence for Uncle John's Attic.... We're evolving....
WOW! Look what happened to me on Friday, July 28, 2006.
It has finally happened.... There are several candy stores at the "SALE." I was left alone, & unsupervised in the BIG TOP FAVORITES!
Please look for more about "Big Top Favorites" at the sale later, as I have been asked to establish Internet presence for this wonderful family owned, and operated business at Booth's Corner Farmer's Market.